The Made in Canada Project
Canadians have good reason to be proud. Share in our collective success stories as we fight COVID-19 together.
Celebrate Canadian success
To help Canada fight COVID-19, the Government of Canada encouraged businesses and manufacturers to assist in meeting the need for medical supplies and equipment. More than 6,000 companies reached out to ask how they could help.
Companies retooled their facilities and increased their production capacity, collected and donated existing supplies and equipment, and combined resources to manufacture needed supplies more quickly. These are their stories.
Keep scrolling to see the latest news, follow the stories on our social media channels, link to resources and supports for your business, and find more ways you can contribute to Canada's fight against COVID-19.
Canadian manufacturers innovate to fight COVID-19
More Canadian success stories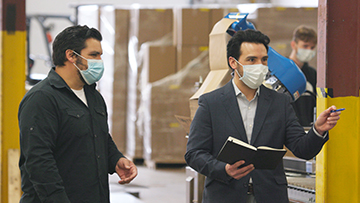 You can still join the fight against COVID-19
The Government of Canada's top priority remains the health and safety of Canadians, and that includes front-line workers having the PPE and supplies they need. In our ongoing response to COVID-19, we are working across government, as well as in partnership with the provinces and territories and with industry, to ensure that Canadians have access to the information, resources and supplies they need to stay safe and healthy.
ISED will continue to retain all previously provided offers of assistance for future consideration as the Government of Canada's needs evolve.
News releases
The Government of Canada is building a secure, domestic supply of needed items that will help provide vital, made-in-Canada protective gear and medical equipment to respond to the pandemic. More than 6,000 Canadian companies have offered their expertise and capacity as we work together to save and protect lives.
Supports for industry and business
---
Mobilizing science and research
Canadian Institutes of Health Research (CIHR)
Canadian Research Coordinating Committee
Genome Canada
Health Canada
Mitacs
National Research Council (NRC)
National Sciences and Engineering Council of Canada (NSERC)
Office of the Chief Science Advisor
Public Health Agency of Canada: National Microbiology Laboratory (NML)
Social Sciences and Humanities Research Council (SSHRC)
---